Lead and Lead Free Solder Wire: Top 9 Solders
The lead solder wire has been in use for many years now. And today, it enjoys a good reputation courtesy of its efficient solderability. However, ever since research brought the lead solders' toxicity to light, the lead-free solders have begun to replace them.
Both lead and lead-free solders have their pros and cons. And what you choose for your project depends on your soldering expertise and end product requirement.
To help you choose the best solder for your next soldering project, we have put together a list of ten lead and lead-free solder wires. And we are sharing our list in this article. So, without further ado, let's dive right in!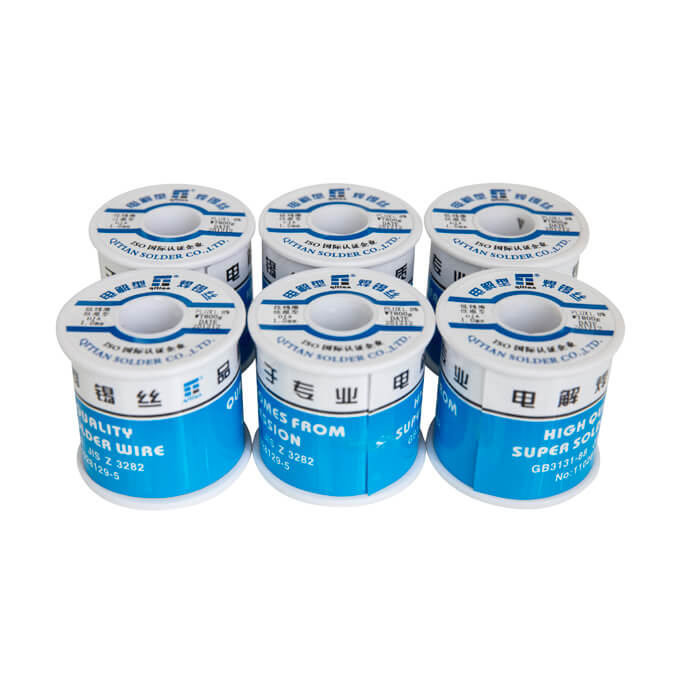 Best Lead-Free and Lead Solder Wire: Our Top Picks
Choosing the right solder before a soldering project is crucial because the performance of the solder during and after soldering determines the quality of the end product.
Whether you are considering a lead-free or lead solder wire, you want a solder that features good wettability, solderability, and conductivity. Therefore, here's a list of some of the best lead-free and lead solders that can assist you in your next project:
1.      Kester Solder Roll 60/40 Wire
If you have been in the soldering business for long, you must have heard of Kester's solders before. Kester is a global leader in the manufacturing and distribution of lead and lead-free solders.
Their 60/40 lead solder wire contains 60% Sn and 40% Pb. It is very thin with its 0.031 inches diameter. Being a steel-based solder it features very high conductivity and hence offers good solderability.
The Kester 60/40 solder roll comes with a Rosin core flux, which cleans the metal surface without being toxic. This solder comes in a one-pound spool which should be enough to get you through a year of moderate soldering.
Kester's solders are known for their strong joints and good cosmetic appeal. But they are often more expensive than other similar solders.
2.      Maiyum Lead Solder Wire
Talking about expensive solders, the Maiyum lead solder wire is an affordable alternative to the previously discussed Kester's solder. Moreover, this solder does not sacrifice its quality for the sake of its price.
Comprising of 63% Sn and 37% Pb, the Maiyum lead solder wire is a rosin core solder carrying 1.8% flux. It has a 0.03 inches diameter. And you can find it in the markets wrapped in a 50 g spool.
Being an SNPB solder, Maiyum's solder melts very easily at 182 C and offers ease in solderability.
3.      Wyctin's 60/40 Tin Lead Rosin Core Solder Wire
Wyctin's rosin core lead solder wire ranks among some of the best solders for people who prefer SNPB solders. It features a composition of 60% tin and 40% lead and forms long-lasting and highly conductive joints.
It is a rosin core solder and being a lead solder wire, it melts easily at 180 C. It has a 0.02 inches diameter, and you can find 50 g spools of this solder wire easily in the market.
4.      Canfield Solder Wire
Canfield is another company offering premium quality lead solder wire. The solder we have enlisted here is Canfield's 60/40 Tin lead solder. It is composed of 60% tin and 40% lead and melts low at 182 C.
It has a diameter of 0.125 inches, due to which it is considered as a thick wire, and is only suitable for soldering large components.
The canfield lead solder wire comes in a one-pound spool. And because it contains lead, it is very easy to use, has good flowability, and features good reviews.
5.      QT Lead Solder Wire 63/37
Qiantian has been in the solder manufacturing industry for the last ten years. And their experience reflects in the quality of their products.
The QT 63/37 lead solder wire, as its name suggests, carries 63% tin and 37% lead. It uses a superior quality, hydrogenated rosin core flux which cleans the metal and ensures good solderability. Moreover, its rosin core solder does not generate smoke during heating, which makes it all the more suitable for every type of electronic soldering process.
The solder joint that QT solder wire forms is strong and has a good cosmetic appearance. To add to its features, these solders are not only promising for manual soldering. But you can use them in automatic soldering machines as well because this solder wire does not knot-up while in the machine.
For more details, you can check out QT's website and get a quote for the product. Their minimum order quantity is 10 pieces.
6.      Mudder Lead-Free Solder Wire
Lead-free solder wires deserve a place in our list because, to be honest, they are not as bad as people have led us to think.
The Mudder lead-free solder wire consists of 99% tin, 0.3% silver, and 0.7% copper. Due to the presence of high melting metals like copper and silver, the melting point of this solder is slightly higher than the other solders we have discussed here. And these solders melt between 215 to 220 °C.
This solder comes in a 100 g spool and contrary to what people think, it is not too hard to work with for experienced solderers. It has good electrical and thermal conductivity and promises optimum solderability.
If you are a fan of lead solders, then you may not like this solder too much as it melts higher and also produces smoke while soldering.
7.      QT Lead Solder Wire 60/40
Another one of QT's lead solder wires made it to our list and this time it is their SNPB 60/40 solder. This lead solder wire contains 60% Sn and 40% Pb with some EU-standard trace elements like copper.
Like QT's 63/37 lead solder wire, this solder is also a promising candidate for manual and automatic soldering with it its good wettability, winding, and coating. Moreover, this solder is a rosin core solder with the flux uniformly distributed in the core of the wire. Thus ensuring that there are no gaps in the flux and the soldering process goes smoothly.
8.      Nihon Superior SN100C (0044) Flux Core Solder Wire
Nihon Superior's lead-free solders are popular among solderers who prefer using lead-free solders for their projects.
These solders promise good wettability and spread nicely. Therefore, the claim to minimize the soldering time significantly as compared to other solders.
Another important factor that makes them a favorite among some solderers is that apart from being lead-free these solders are 100% halogen-free as well. This means that they do not contain Chlorine, Bromine, Iodine, and other similar elements and are hence 100% non-toxic.
9.      Austor Solder Wire
Austor lead solder wire is just like all 60/40 solders in that it has 60% Sn and 40% Pb. However, what makes it stand out from its peers is its packaging.
The Austor solder wire comes in a tube-shaped spool which makes it super easy to use. Each spool contains 20 g of 0.032 inches diameter wire and the solder wire comes in a pack of six spools. This means you get 120 g of conveniently wrapped solder wire in one purchase.
Aside from its packaging, being a lead-based solder, the Austor lead solder wire also features good solderability with quick melting and spreading properties. It is a rosin core solder containing 2% flux, with a high thermal and electrical conductivity.
To Sum it Up
Once you have decided between buying a lead-free or a lead solder wire, you will come across a sea of choices. Some solders will promise nontoxicity while others will claim good wettability. The solder that you select out of the numerous option that you have is entirely up to your soldering preferences and requirements.
We, however, have picked our favorite solders and have presented them in the list above.
If you are looking for a lead solder wire that is available in bulk, has a fast-melting rate, and can reduce the overall soldering time, then you should consider QT's 63/37 or 60/40 solders
However, if you want to go for a lead-free solder then either Mudder's SAC solder or Nihon Superior's SN100C solder might be worth your time and consideration.
For More Information, Contact Us Today!